BEAR LAKE VALLEY, IDAHO
Ministry Description:
Brian & Jessica are church planters in the Bear Lake Valley of Idaho. Since 2011, they have been focused on building relationships with people and making disciples in their 90% Mormon community. Brian & Jessica have a burden for the great need in rural America where many communities have no Bible-teaching, gospel-teaching churches. They are currently working to plant the gospel in the community in order to plant a church. This is being done through grass roots outreach work (i.e. working a job in the community, being involved in community activities, and building relationships with those who are far from God so that they may come to know Jesus).
A few facts:
Brian is originally from upstate NY. Jessica is originally from Oregon.
Brian & Jessica both attended Frontier School of the Bible in LaGrange, WY.
Brian completed his masters degree in church planting from Capital Seminary and Graduate School in Lancaster, PA.
Brian & Jessica have 6 children: Titus, Micah, Kaylee, Elijah, Lia, and Eden.
What does your average day entail?
In addition to the church plant, I (Brian) work full time at an auto body shop (both to supplement our support as well as to build bridges into the community). My job is not just a paycheck but also a pulpit as I constantly have opportunities to talk to people about Jesus and His Word. The picture below reflects what is experienced each day at work. My Bible open on my tool cart in order to share the gospel. We are always finding ways to share the gospel with our community in order to plant a church by being involved in community activities, building relationships and simply working daily with those who have not come to Christ.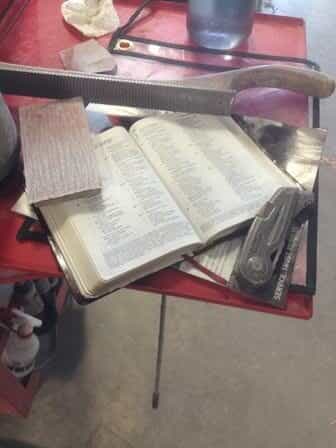 What do you love about your ministry?
We love to meet with real people in real life for the purpose of introducing them to Jesus and being able to flesh out our faith so that people can understand what it means to be a follower of Christ.
Support the Russell's:
Through RHMA - Choose "Russell Fund"
Learn more about RHMA:
Rural Home Missionary Association