LOJA, ECUADOR
Ministry Description:
Dustan and Becka King serve in partnership with the Mustard Seed church in the city of Loja, Ecuador as well as the Mustard Seed church plant in the rural area of Suro. Dustan and Becka are passionate about intentional discipleship which is demonstrated in their ministries of one-on-one counseling, Bible studies, and in their church involvement and mentoring.
Dustan and Becka's ties to Ecuador began when Dustan's sister, Amanda, began serving there. When God made it clear that He wanted them to change their lifestyle and follow Him "to the uttermost parts of the earth", Ecuador was an obvious choice.
Loja is a city of about 200,000 located in the Sierra region of southern Ecuador. The average temperature is between 50 and 75 degrees all year long.
Sometimes the rain there is more like a mist and the raindrops hang in the air so long they can see it dropping. It's like snow, only not frozen.
Dustan started attending New Castle in his late teens and was baptized by Pastor Somers.
The people are intensely curious about God's Word, which makes sharing the gospel a very rewarding experience.
The food there is quite bland. Ecuadorians find even table pepper to be spicy. The people of Ecuador love the flavors of onions, garlic, and salt. Loja, where Dustan and Becka serve is famous for their tamales.
Dustan & Becka have three children Marcus, Weston and Esther.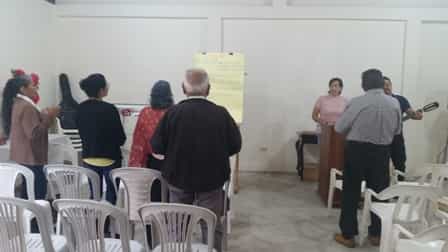 What does your average day entail?
Dustan:
This would have been easier to answer when I was a computer programmer. Almost no day is the same as a global partner. I start the day normally with prayer and personal time in the Word of God. I am part of several teams and I often have meetings and activities to do together. Currently, as I transition to new ministries within the Mustard Seed Church and my role as Compassion ministry leader, I am spending time planning for the future and in prayer with co-workers and ministry leaders. I oversee the finances for the SIM team. Once we get our VISA then I will start implementing many of the ministries I have been planning or praying about. This will also allow me to start a long-term discipleship with someone. I also take time to read, have fun with my teenage kids and take walks with my wife and the family dog.
Becka:
My day starts with a time of Bible study and then prayer with Dustan. We pray through the events and ministries of the day as well as for our personal concerns and spiritual growth and protection. Then it's time to make breakfast for the family which often consists of eggs and plantains. Depending on which day of the week it is, I will teach a literature class at the local missionary kids study center or I will prepare for my ministries. For intentional discipleship this looks like studying God's word with the purpose of helping young women apply it to their lives. I may also be reading through other biblical resources to help me prepare. I spend time praying that God will help me depend on His word and not my own experiences. I may also use this time to prepare for any Bible studies I am leading or meet with other women in ministry to encourage them. On Sundays Dustan and I attend our local church either at their main site just up the hill from our house or we travel to worship with the church plant in Suro. During our free time we love to take walks in a nearby park with our family dog named Nabucodnozor (Nabu for short).
What do you love about ministry?
Dustan:
I love it when I see the Holy Spirit working in the life of someone I have a connection with. Several years ago, I met a young man who claimed to not believe in God. Many years later he has given his life to Jesus and has asked me to be at his baptism. This is exciting for me!
Becka:
I have been intensively working with a young woman for many years who has been dealing with some very serious trauma. I have watched how God's living Word transforms her life over and over again. I have watched as she forgives the unforgivable because she recognizes what God has forgiven in her own life. Another young lady I have worked with moved away to a very rural area with her family to plant a church where Jesus was not known. She has been struggling with temptation and sent me word that she misses me and would like to see me soon so she can be encouraged. I shared the gospel with a couple of young mothers and watched as one of the women wrote the scripture passages on her arm so she could remember them. What excites me? Seeing how God works in the lives of the people here! Having an opportunity to participate in God's glorious and redeeming work!
Support the King's:
Through NCBC - Choose "Dustan and Becka King" under "Designation"
Follow the King's:
Blog: Servants in Ecuador