QUINARA, PROVINCE OF LOJA, ECUADOR
Ministry Description:
Dustan and Becka King serve in partnership with the Mustard Seed church in the city of Loja, Ecuador as well as the Mustard Seed church plant in the rural area of Suro. Dustan and Becka are passionate about intentional discipleship which is demonstrated in their ministries of one-on-one counseling, Bible studies, and in their church involvement and mentoring.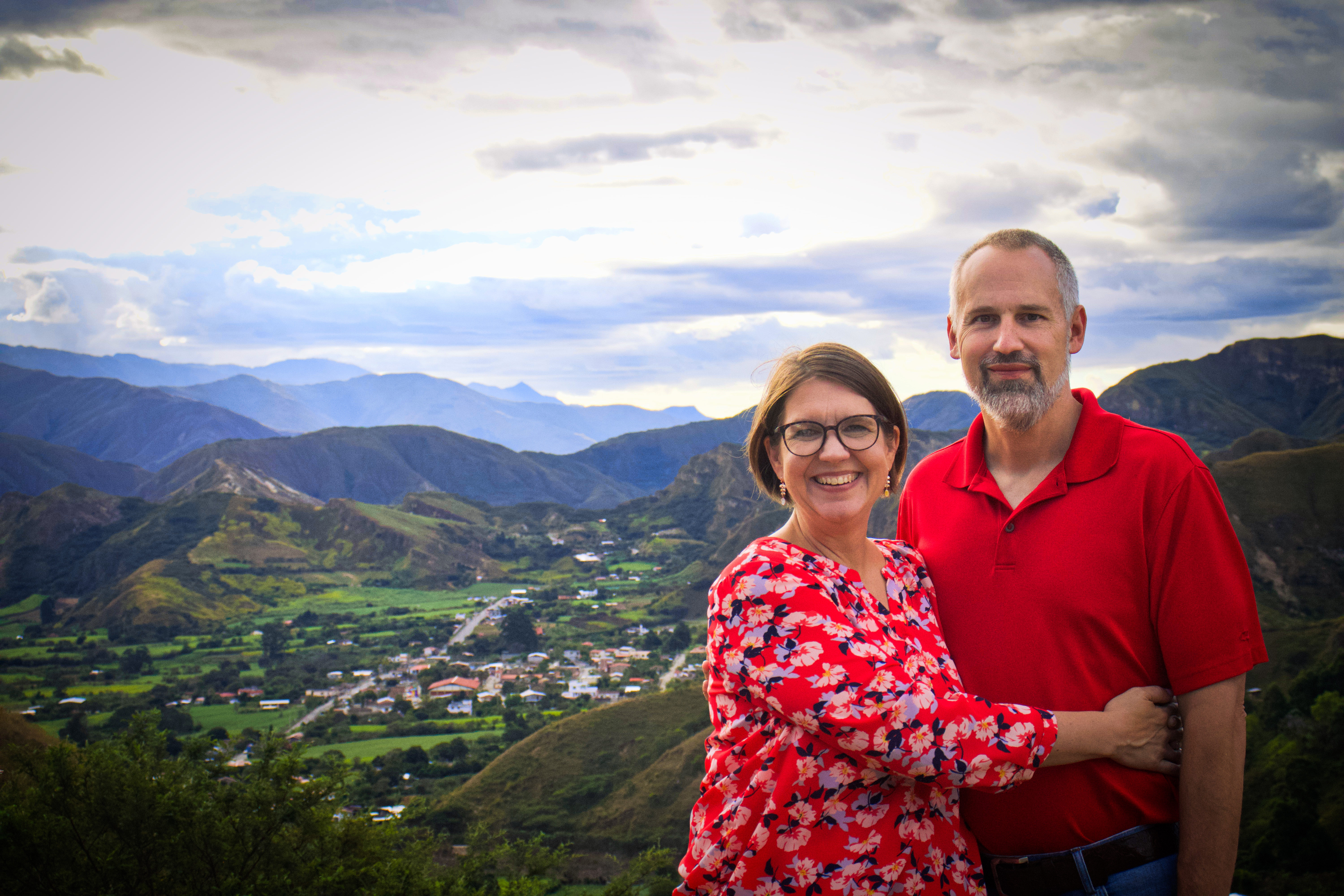 Dustan and Becka's ties to Ecuador began when Dustan's sister, Amanda, began serving there. When God made it clear that He wanted them to change their lifestyle and follow Him "to the uttermost parts of the earth", Ecuador was an obvious choice.
Loja is a city of about 200,000 located in the Sierra region of southern Ecuador. The average temperature is between 50 and 75 degrees all year long.
Sometimes the rain there is more like a mist and the raindrops hang in the air so long they can see it dropping. It's like snow, only not frozen.
Dustan started attending New Castle in his late teens and was baptized by Pastor Somers.
The people are intensely curious about God's Word, which makes sharing the gospel a very rewarding experience.
The food there is quite bland. Ecuadorians find even table pepper to be spicy. The people of Ecuador love the flavors of onions, garlic, and salt. Loja, where Dustan and Becka serve is famous for their tamales.
Dustan & Becka have three children Marcus, Weston and Esther.
What does your average day entail?
Dustan:
Almost no day is the same as a global partner. I start the day normally with
prayer and personal time in the Word of God or often prayer and a devotion
with my wife. In the morning I also have breakfast with Becka, exercise with my
friend David, check my emails and review my calendar. During the day I will
normally do errands, housework and/or go to a meeting or plan a bible study. In
the evenings we visit the community to build relationships and have small group
discipleship meetings/bible studies. We split our time between Suro where
there is a small church and Quinara where we live. In addition, I oversee the
finances for the SIM team. In my free time I hang out with my dogs and play
board games with family and friends.

Becka:
My day starts with a time of Bible study and then prayer with Dustan. We pray
through the events and ministries of the day as well as for our personal concerns
and spiritual growth and protection. My morning work consists mainly of
household chores, admin work, and ministry preparations. The afternoons and evenings are dedicated to visits, bible studies, and church ministries. My favorite activity is our Wednesday Bible studies where I tell Bible stories. We also spend time with our teammates during the week to pray through our ministry and family concerns.

What do you love about ministry?
Dustan:
I love it when I see the Holy Spirit working in the life of someone. I feel blessed
when I am used by God to help someone grow closer to Him. Cross-cultural
ministry often brings extra burdens but at the same time it reminds me of my
own need for our savior Jesus. This then motivates me to continue with the
ministry that God has given to me. I feel privileged to be sent by NCBC to
Ecuador.
Becka:
I love seeing the work of the Holy Spirit bear fruit in the lives of a believers. Over
the years I have seen people grow in faith as they understand the redemptive
work of Jesus in every area of their life. I love seeing people crushed by sin move
into freedom in Christ. There is nothing like seeing a former alcoholic singing his
heart out to Jesus as he leads the congregation in musical worship! What joy I
feel when I see a family, formerly broken in relationship, worshipping, and
serving together in restored relationship! And, of course, my favorite moment of
ministry is seeing the public display of union in Christ that is shown when people
declare their love for our Lord in baptism!
Support the King's:
Through NCBC - Choose "Dustan and Becka King" under "Designation"