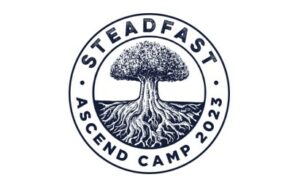 June 24-28, 2023
Ascend is committed to providing the highest quality summer camp with life transforming expository preaching, God honoring music, small group discipleship, and exciting activities for high school students. Ascend will take place June 24th-28th (Saturday-Wednesday) at Lake Williamson Christian Center in Carlinville, IL. This year's theme is "Steadfast."
Ascend is open to all incoming 9th grade students through graduating high school seniors. Costs are as follows: single student ($350), two students ($325/student), three or more students ($300/student). Please know that we do everything possible to make camp affordable for all students, including the provision of numerous scholarship opportunities in the months leading up to camp. If money is even the slightest concern for your family, please let us know immediately. We don't want any student left behind due to finances!
Since Ascend is such a popular camp, we need to submit our group registration by late March. Therefore, please submit your registration with your non-refundable $75 deposit per student no later than Wednesday, March 22nd. Registration after this date is possible but not guaranteed. Payment can be made online via the Church Center App or if you need to pay by cash/check, please contact Lisa Willmert to make your initial registration and payment. Once scholarships have been calculated, final balances will be due on or before May 28th.
If you would like to know more about Ascend, we encourage you to 'like' their Facebook page and check out their website: http://www.ascendcamp.com/. As always, please contact Pastor Scott Gnuse with any questions you might have. We hope to see your student at Ascend 2023.