KING'S CROSS CHURCH, NORTH CAROLINA
Ministry Description:
Cameron is serving King's Cross Church as a pastoral resident. This residency is a 2-year commitment that will help King's Cross launch a biblical counseling ministry and train Cameron to plant a multi-ethnic and multi-generational church.
Cameron will have the privilege of serving as a lead counselor, training future counselors, and helping create a culture of discipleship within the church. The elders of KCC will also be training the Dobbins family to prepare to launch a new church or revitalize a dying church for the glory of God and the furtherance of the Gospel.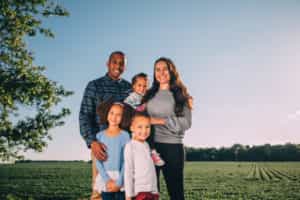 A few facts:
King's Cross Church was planted in November 2017 in the heart of Greensboro, North Carolina. By God's grace, the church has grown to over 200 people.
King's Cross is a downtown church plant seeking to be multi-ethnic & multi-generational as they follow after Christ.
What does your average day entail?
Mentoring with lead pastor Clint Darst
Counseling members
Training lay counselors
Bible study & sermon preparation
Teaching & preaching
What do you love about ministry?
I love being an instrument in God's hands to help people find hope and help in Jesus Christ and in His finished work on the cross. As a biblical counselor, I'm privileged to have a front-row seat to watch the Spirit change people's lives. This change comes about through the transforming power of God's grace and through the inspired Word of God. With God's help, our desire is to help people go from brokenness to wholeness through the Gospel of Jesus Christ.
Support Dobbins:
Through NCBC - Choose "Cameron and Roanna Dobbins" under "Designation